How to Clean White Canvas Shoes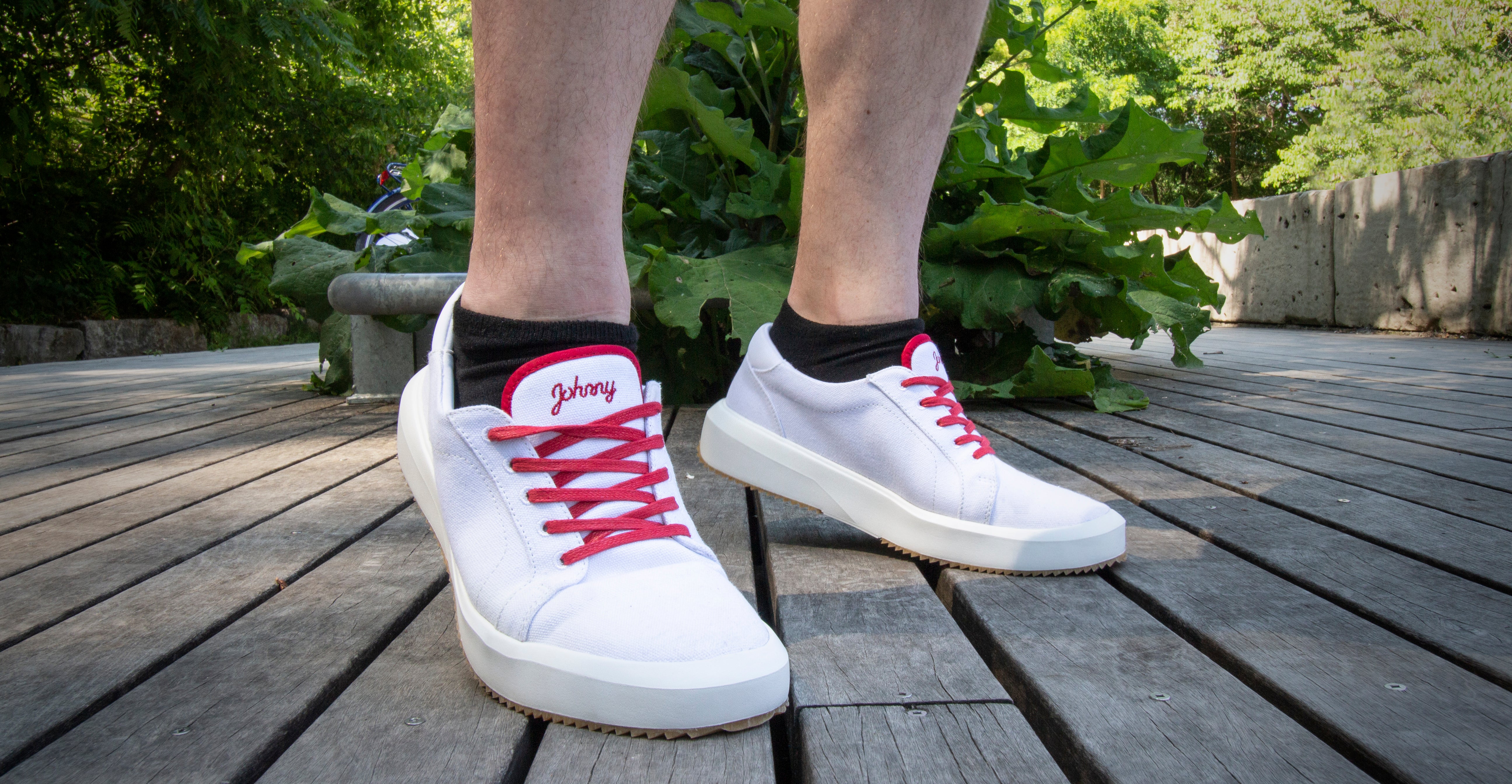 Working Time:

 

30 minutes

Total Time:

 

2 hours

Skill Level:

 

Beginner

Estimated Cost:

 

$15
White shoes are a all the trend, but scuffs, stains, and dirt can quickly make your bright white shoes look unkempt. Cleaning white shoes isn't as simple as tossing them in the washing machine and dryer, which could damage the sneakers. Whether they're made of canvas, leather, or mesh, these step-by-step instructions for cleaning white shoes will have your footwear looking like new.
Best Ways to Clean White Shoes
These are a few of our favorite ways to clean white shoes:
Baking soda and vinegar:

 

This method works well for white canvas shoes that are lightly dirty. 
Soapy water:

 

Use a mixture of water and liquid dish soap for white leather shoes. 
Laundry detergent:

 

A mixture of laundry detergent and warm water is best for mesh or cloth shoes. 
Bleach:

 

A bleach pen works well for deep stains (like blood or grass), while a mixture of bleach solution and water will easily brighten up white shoelaces.
Toothpaste:

 

Use an old toothbrush and white toothpaste to scrub dirt and grime out of almost any kind of shoes.
What You'll Need
Equipment / Tools
White Canvas Shoes
Bleach pen, if needed
Eraser sponge, such as a Mr. Clean Magic Eraser
Toothbrush
Soft cloth or paper towels
White Shoelaces
Rubber gloves
White mesh lingerie bag
Materials
White Canvas Shoes
3 tbsp. baking soda
1 tbsp. white vinegar
White Shoelaces
3 tbsp. bleach
1 gallon water
Laundry detergent
Instructions
How to Clean White Canvas Shoes with Vinegar
Use this method to clean Johnny's white canvas appleseed shoes and keep them looking spotless.
Remove Loose Dirt

Untie and remove the shoelaces so you can easily access all parts of the shoe. To loosen large bits of caked-on dirt or mud, take the shoes outside and knock the bottoms together. Use a dry toothbrush or small, soft-bristled brush to scrub the shoes and remove any remaining loose dirt. Be sure to brush along the rubber soles and outer edges of the tongue.

Clean Shoes with Baking Soda and Vinegar

Mix the baking soda and white vinegar together in a small bowl to form a paste. Dip the toothbrush into the mixture and apply the paste all over the shoes, scrubbing softly to remove dirt and stains. Allow the mixture to harden on the shoes. When it's completely dry, brush off the larger bits and wipe off the remainder using a soft cloth or paper towel. For stubborn stains, use a bleach pen on the spots and wait about five minutes before washing the solution off with hot water and liquid detergent.

Clean the Soles

Use a Mr. Clean Eraser to remove any scuff marks or streaks of dirt on the white soles of the shoes. Wet the sponge eraser with water and scrub around all sides of the rubber sole. Dampen a clean cloth or paper towel with water and wipe off the shoes. Let them air dry completely before wearing.
That's all there is to it! Wait for your shoes to dry completely and they'll be ready to match your favorite outfit.
---